Friedrichshafen, Germany
Ham Radio Travelogue
Here are some pointers for North Americans intending to travel to the annual Friedrichshafen, Germany ham radio convention at Messe Friedrichshafen. I attended the June, 2006 event and would have appreciated knowing the details I present here, so hopefully someone else may benefit from my experiences!
Description
Friedrichshafen is billed as the largest ham radio event and flea market in Europe. It is held annually in early summer, usually the third weekend in June. Friedrichshafen is a city on the northern shore of Lake Constance, which defines the border of Germany and Switzerland. You do not need reservations to be admitted to the event as a visitor, but it would be a good idea to get them should you intend to be a seller. American and Canadian citizens do not need a visa to enter Germany.
Weather: The weather at this time of year in Friedrichshafen will invariably be hot. As in very hot. Just the same, it also possible to experience heavy rain and thunderstorms for a day and then be back to the heat.
Venue: The hamfest is held at Messe Friedrichshafen, which is a trade show complex by itself off a road heading out of town to the north. Please note that it is NOT within walking distance of the airport or train station, nor anywhere near them or anything else for that matter. It is also not all that easy to find from the main road, although there should be signs posted directing you in. On the days of the hamfest, presuming you drive there, you will be directed to a large grassy parking lot for day attendees. There is a nominal charge for parking. You will see cars with license plates from all over Europe in the parking lot.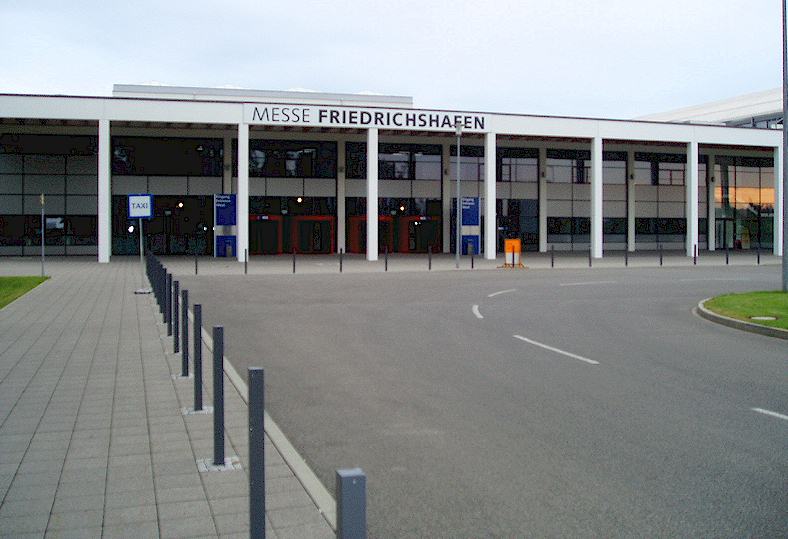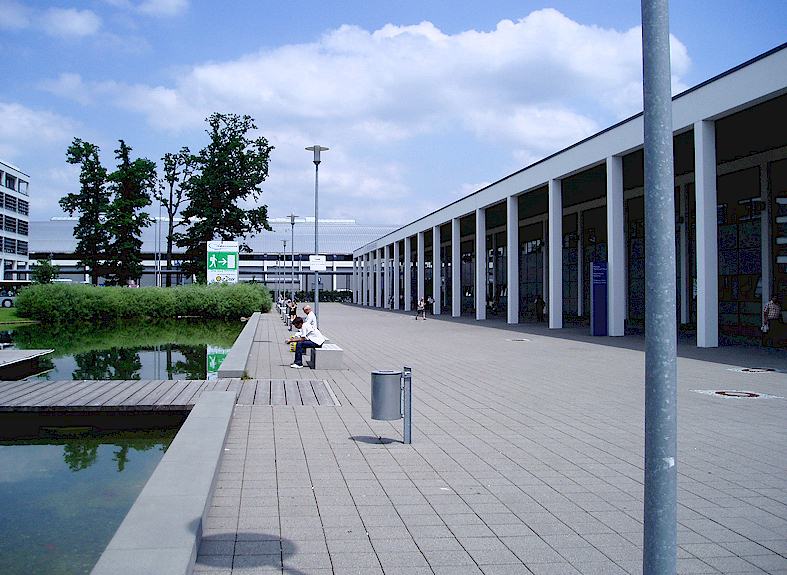 Flea Market
Presumably, the item of interest to most of us from this country will be the flea market, the idea being to locate exotic items which we never see in the USA. It's my opinion that the greatest quantity of such exotic equipment has come and gone, in the late 1990's, from the breakup of the former Soviet Union and its satellite states. There is still a fair quantity of military surplus from these sources, but nothing compared to the flood of it which occurred ten years ago.
The flea market is held indoors in three adjacent halls which resemble large aircraft hangars. Do not be fooled by the advertising literature which mentions the three large halls, but fails to mention that they will not all be full. The event I attended actually consisted of two and a half halls, in that the third hall was only half occupied on the first day, and even less occupied on succeeding days. For 2010, the hall locations were reversed from east to west, although I think they are roughly the same size.
Also, do not be fooled by claims that this flea market is "second only to Dayton." There is a large gap between Dayton's size and this one.
LeMans Start: The flea market, at least for the buyers, consists of a LeMans start. This means that the buyers accumulate at a turnstile en masse until precisely at 9:00 a.m., to the second, when the mob is allowed in. You should have already purchased your ticket, which is a plastic disc, at the ticket window.
Bear in mind that prices are higher than American flea markets, and despite claims to the contrary, few sellers speak much English. German would obviously be the ideal language to use. My schoolboy German was pressed to its limits but performed successfully.
Prices on unsold equipment tend to fall drastically throughout the three day event. The best and cheapest items will go quickly, however. It is a good idea to know what a fair price should be for an item ahead of time, as prices can vary wildly.
One major issue with this flea market is that it is a good distance from the parking lot to the halls. There are a few coin operated small storage lockers in the hall area, however these will all be taken almost immediately and in any case are too small to hold much. This leaves you making trips to the parking lot with your purchases. God help you if you came by bus or taxi.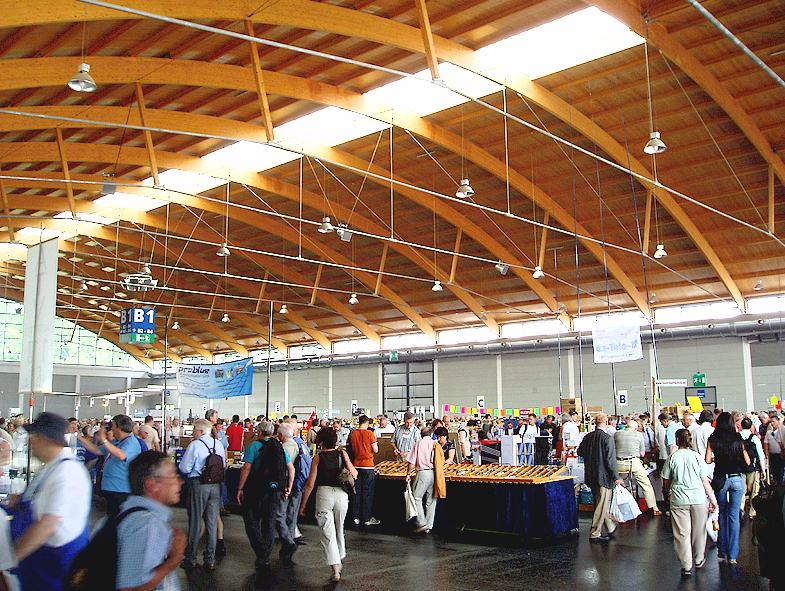 Duration: The flea market lasts Friday through Sunday. In my opinion, it's pointless to attend the Sunday event as all the "good stuff" will be long gone along with about a third or more of the vendors. You won't miss anything by skipping Sunday. Friday is a must-be-there day but the weekend is optional. I had anticipated seeing different and additional sellers on Saturday, but it did not happen. By making a concerted effort, it would easily be possible to complete the flea market on Friday and not miss anything even by departing Saturday morning.
Trading in the queue: One disappointment of a flea market arranged like this one is that there is the opportunity for sellers to trade among each other Thursday night and early Friday morning before the buyers are allowed in. I imagine there are prohibitions on what the British refer to as "trading in the queue" but it does happen and means that some of the very best and cheapest items may already be gone before you ever get inside. The way around this would be to also become a seller, but that's not easy for an American to do when you are limited to two lightweight suitcases on the plane... If you stop by the venue late Thursday afternoon, it will appear as if little is going on. I recommend you do this anyway, to see the layout and where you will need to go the following morning. The seller entrance is around the back of the halls. I am not sure how controlled the access is, regarding possibly viewing things "in advance."
The Exhibits: There is a separate exhibit hall area populated by radio dealers and manufacturers and clubs from around Europe. The clubs often have interesting tourist style maps and brochures about their countries and these will provide useful reading material on the way home on the plane. For example, it appears that Lithuania is one large brothel. At least that's what the tourist books seemed to dwell on. The time you will spend in the exhibit hall area will be considerably less than in the flea market. It should be possible to survey the entire area in less than an hour. Incidentally, the exhibit hall gave the impression of being a bit shabby in presentation, i.e. a bit messy, worn and disorganized.
Bringing items home: Assuming you buy some radios, there's the issue of how to bring them home. At the time I went, US Customs did not collect a duty on value of purchases less than $ 2000, which takes care of most of us. I made photocopies of my amateur radio license and attached them to the radios, inside my luggage, along with a note explaining what the item was, as in "Used short-wave radio for collector, country of origin = Germany." I don't know if it helped, but my luggage had been indeed opened and the items looked at, but passed through. One of the customs agents told me that they see an unbelievable variety of items in people's luggage, and that it's unlikely they haven't already seen old radios or radio gear before. The gear needs to be well padded, and it helps to put cardboard around the items.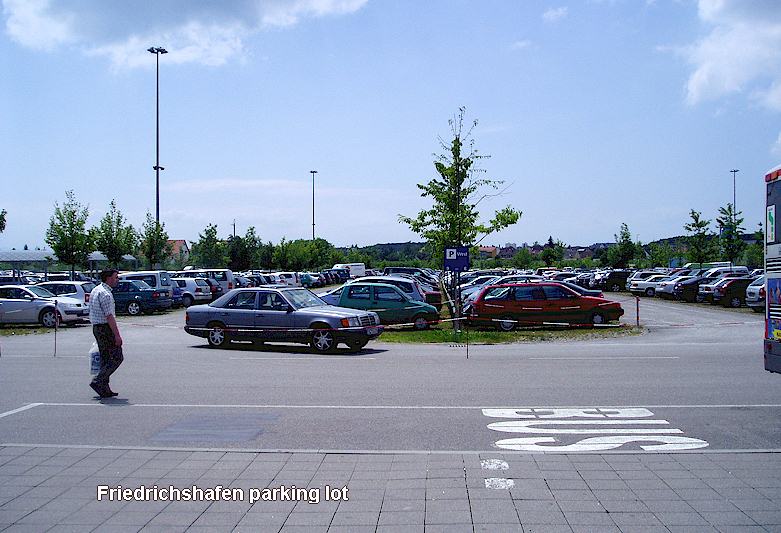 Staying in Germany
There is no point to staying in downtown Friedrichshafen, except that you can walk to restaurants and that sort of thing. This is not the sort of city where you want to be without a car. It makes far more sense to rent a car (usually inexpensive) and stay in one of the outlying small towns, some of which are actually just as close to the venue as Friedrichshafen itself. The hotels in the outlying areas are also considerably cheaper than the ones in Friedrichshafen. There is enough to do without figuring out Byzantine bus schedules and routes.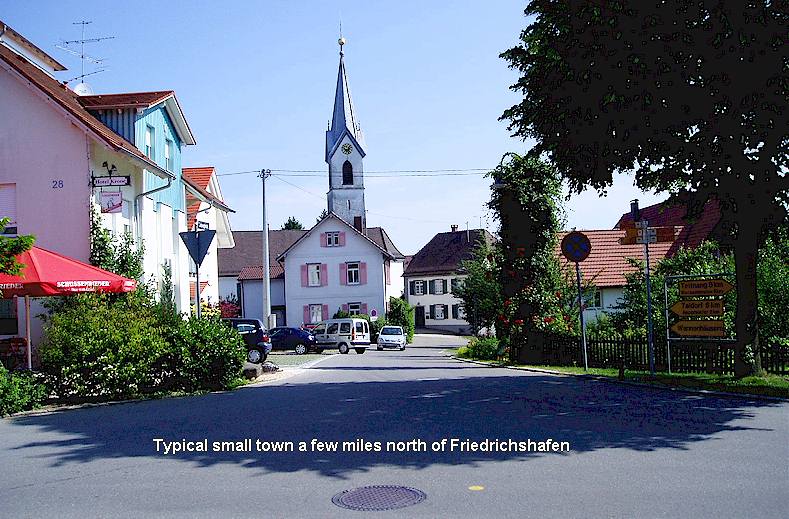 German hotels: While clean, German chain or corporate hotels are usually below the standards expected of American counterparts. A working shower and hairdryer seems a rarity in German hotels. I stayed in a nice hotel in the town of Ettenkirch, shown above, which offered new, bright and clean rooms with stove tops and refrigerators, and the shower actually worked well. However, none of the appliances worked! I was able to activate them by locating the breaker panel and replacing the connections to each under the counter. The bed collapsed in the middle of the night, and I am not that heavy! The hotel itself was quiet but Germany was fully involved in the World Cup Soccer games and the street in front of the hotel after dark one night was full of drunken, screaming, bottle smashing soccer hooligans until about 4:00 a.m., which tended to ruin an otherwise pleasant stay. If possible, you are often better off buying food in grocery stores and eating in your room, as this can save a considerable amount of money. Bear in mind that German hotels in small towns may not have telephones in the rooms and may or may not take messages for you while you are out, or present them in a coherent manner. Best to bring your own cell phone (see below.) Unlike American hotel rooms, many German ones have doorbells. Familiarize yourself with what that sound is for, so you don't wind up being like the Beverly Hillbillies and their doorbell.
Getting There
You probably won't want to fly directly to Friedrichshafen, which I don't believe is possible from the USA anyway. Thus you will wind up picking the cheapest flight to a major German city and taking the train or a connecting flight to Friedrichshafen. Might as well take the train, but read below.
Getting from Point A to Point B: Pay no attention to TV travelogues showing happy American tourists traveling everywhere in Germany by train, streetcar, subway and bus. This is frankly the "peasant" way to travel, is stressful, inconvenient, aggravating and annoying. It is tolerable as a way to get to where you want to go, but once there, renting a vehicle is infinitely more practical than taxis or buses (except in major cities.)
Regarding the trains... Presuming you buy a reserved-seat ticket ahead of time (you can do all this on the internet,) don't be surprised if you find someone in that seat when you finally locate it. This is an inevitable facet of Deutsche Bahn (the state railroad) and stems from these persons buying some kind of "standby" ticket which does not guarantee them a seat. In every case it will be necessary to throw them out of your seat and in every case, in my experience, they will first try to argue with you before finally and grudgingly departing. A big thumbs-down for Deutsche Bahn because of this. The train system in Germany is not efficient, regardless of what others may try to tell you. The only time your train will be on time is if you are late to catch it. Few conductors speak English, or at least admit it. In some stations, boarding the train is a rowdy scrum and woe unto you if it turns out your reserved seat is several cars ahead. Particularly if you have a lot of luggage. It can take several miles or even a stop at the next station before you finally locate your seat.
In Friedrichshafen there are two main railroad stations, one downtown ("Stadt") and one at the airport ("Flughafen.") There seems no point in arriving at the airport station because as far as I could determine, there are no actual car rental facilities there, just a shuttle bus which will take you to the rental office in town. There is no information ahead of time as to when the shuttle bus runs or where to catch it. And...there are no car rental facilities at the downtown train station either! I talked to Europcar's Friedrichshafen office on the telephone on the way in and was only informed of this little detail then. There's nothing about it on the website. Furthermore, the car rental office is located about 1/4 mile behind the train station on Prinz Eugen Straße (Prince Eugen Street) and you may want to take a taxi there, which should cost about 5 Euros or less. In other words, it's a lot less stress if you determine exactly where the car rental office is located and how you will get there. The internet reservations which just say "Friedrichshafen airport" or "Friedrichshafen Railroad Station" are useless. Make sure the rental office is indeed at the airport, or find out how to get to it.
If you make train reservations, try to allow at least an hour between connections. This allows for your train to be late, and they usually are. If you miss your connection, the standard ticket allows you to take the next train through. There are yellow timetable signs on the platforms which will show you the next train. I didn't see any in English but you can figure them out.
Communications
Telephones: This is an excruciating aspect of travel, best dealt with at home, in advance. Pay telephones are becoming hard to find, are expensive, a nuisance and don't seem very user-friendly. Most of them now require a prepaid phone card rather than coins. At the time I was there, there were several coin telephone booths in the main entrance circle island in front of the Messe Friedrichshafen complex. My opinion of the best way to deal with this is to buy a prepaid cell phone SIM card which will work in Germany. Bear in mind that SIM cards purchased locally in Europe may not work in surrounding countries even though they work in the country where you bought them, and vice versa. SIM cards are usable in GSM format cellular phones, which in this country means a new AT&T, T-Mobile or Cingular phone. Not a Sprint, Alltel or Verizon phone, which do not use SIM cards. Note that older AT&T cellular phones, before their acquisition of Cingular, were not GSM. The best way to tell, is if there is a SIMM card (under the battery) and the decal under the battery should say "quad band" or show four frequency bands in the format shown in the paragraph below.
Many people just buy an "unlocked" GSM phone on eBay, if they don't already have one, and then buy a prepaid "works in Germany" SIM card from one of the many websites offering them. This allows calling home to the USA to check in with family members and adds considerable peace of mind, besides being substantially cheaper than using the pay phone system in Germany (if you can even find one.) Just make sure you understand how to use the cellular phone there before you need to use it, and that it does work with the SIM card you buy. Avoid eBay sellers who have negative feedback for cellular phone activation issues. You should be able to buy an obsolete model GSM cellular phone on eBay for less than $ 25 in new or as-new condition, with the charger and manual. This should be a "quad-band" model, but you don't need a camera or 3G (internet, etc.) features. A quad-band phone will have a decal where the serial number is saying something like "8/9/18/19" or "800-900-1800-1900 MHz." This will also be on the box label if you get an unused one (recommended.)
AT&T and most other GSM carrier branded and "locked" quad-band phones can usually also function in foreign areas if you already have the account at home. In an emergency, your home AT&T or T-Mobile phone may work in Europe with your home SIM card, but you have to go into the "network settings" menu and make changes. In some phones, such as the current Nokia AT&T types, the network settings mode has been disabled by the carrier, so be forewarned! Even if it does work, the per-minute charges to call the USA are usually breathtaking. Better to buy the "works in Germany" prepaid SIM card and substitute that in your phone, but make sure your phone is "unlocked" first or the card will not function. There are websites offering the "unlock" codes for a small fee although at the moment eBay seems to have the cheapest service for this. Most prepaid SIM cards will allow you to finish out the remaining time back home, so that none is wasted. Note that you won't find your "subsidy unlock" code posted on some website. The unlock codes are unique for each phone and are generated from software which applies an algorithm to the unique "IMEI" number of your phone. Please note that the subsidy unlock code I am referring to has nothing to do with the "unlock" password your phone may have installed. You should also be able to call your phone carrier and ask for the unlock code if you have had service for over 90 days and especially if you are not still on a mandatory plan. Sometimes they have a requirement that you have had service with them for at least 90 days, if you got the phone from them with a service plan and a discount.
Note that you can't trust eBay sellers who claim the phones they sell are "unlocked." Almost all phones start out life "subsidy locked," so you should check this out with the SIM card before leaving home.
In addition to the GSM cell phone and SIM card, you should get a generic telephone calling card which works from Germany. These usually feature a toll free number in Germany which allows you to enter a PIN number and call long distance just as you would do in the USA, from a pay phone, cellular phone or home phone. The calling card is almost always cheaper than calling to the USA using the prepaid SIM card you bought to insert in the cell phone, but check the rate chart because often, calls from cell numbers and pay phones are charged a slightly higher rate. Even so, it should still be cheaper than using just the prepaid SIM card. This also gives you a back-up in case one or the other fails to work. You will still have the option of dialing direct using the prepaid SIM card or using a land phone with your prepaid calling card. Note that while they call it a "calling card," if you get it on the web, all you will get is a PIN number and some access numbers to use, which you should print out. There is no actual, physical card. So...why call it a calling card? Your guess is as good as mine.
There are also companies which will rent you a phone for your trip. This is a more expensive option than the above but you would be guaranteed that the phone will work where you need it and the phones are usually either sent UPS to you at home before you leave, or delivered to the front desk at the hotel where you will be staying. Personally, I like the self-help method above because I am cheap. You can buy an unlocked phone on eBay for less than the rental fee.
Also, bear in mind that unlike in the USA, the zero as a first digit is used when calling long distance, and doesn't relate to the operator. In other words, to call a neighboring city, you may have to dial "0" first. Try to learn the dialing protocols where you will be, ahead of time, to minimize stress.
Magic Jack - This is something new. If you find a hotel or location with broadband internet and you are going to bring a laptop, you might consider buying a "Magic Jack" unit, which is a VOIP adapter which allows you to make free calls to USA destinations. But...that's a lot of "stuff" to be lugging around unless you are bringing the computer anyway, for other reasons. Broadband connections are anything but easy to find in Europe unless you are staying in a very expensive hotel, or maybe if you are in a Starbuck's. I haven't tried this so I don't know how well it works in practice. This might be an ideal application for a new Netbook computer, because of its small size. In my experience, calls via Magic Jack have poorer quality than a regular network, but certainly acceptable. Magic Jack does not work in all countries, it's locked out by certain ISP's overseas.
Finances
Cash money: You will need a good supply of cash. Traveler's checks are almost useless in Europe these days, and you are much better off without them. Instead, I suggest you over-fund your credit card before leaving and then use ATM machines to obtain cash when there. The reason for over-funding is that the banks charge you fees and interest on cash advances from ATM's from the moment you withdraw the cash until they are paid. If you already have a positive balance in your credit card account, they can't charge more than the ATM fee. Alternatively, you can make a payment on your credit card as soon as you get home, before the bill arrives, to cut back on the interest charges. You can call and ask your credit card company about how to do this. ATM machines are often located in bank lobbies and most banks have an arrangement where there is a semi-secured lobby which you access with your card after hours. You may want to call your ATM card issuer ahead of leaving and let them know that you will be using the card while overseas so that they don't arbitrarily try to block those transactions for security reasons. Some credit card companies are stinkers about this and may try to deny transactions originating in Europe even after you have notified them you will be there (this is a good way to ruin your day and maybe your trip.) Cards issued by employee credit unions are a classic example. I had no trouble using either my USAA or AT&T (Citibank) Master Cards. You would be best advised to have more than one credit card with you at all times.
Fellow enthusiast Roger Johnson reminded me that in his experience, ATM machines wanted his PIN number for even a credit card, when he was there in 2004, and he had to call home to get it. I can't remember this from 2006, but I may very well have just forgotten. The moral in this instance is to scour your credit card paperwork or check with your credit card issuer to determine your PIN number or at least what to do about it, because it's an important detail. If you have been there recently and can update us on this issue, please do so!
Using your credit cards: Using American based credit cards in Europe is not as simple as the ads and the credit card companies want you to think. European credit cards (Visa, Switch, etc.) have a "smart chip" embedded in them with gold contacts exposed on the rear, and vending machines taking credit cards won't function if you use a card which doesn't have these. For example, the storage lockers at Dutch train stations take credit cards, but only the Dutch ones with the smart chip. In our case we had to flag down a Dutch railroad employee and have her use her card in the machine, trading her cash. A true nuisance. The ATM machines inside banks seem to take the American credit cards without difficulty, but see the above comment about PIN numbers. If you can expand on this issue, please let me know and I'll add it here.
Shopping
No Speakee English: Pay no attention to smarmy TV travel shows which try to say that everyone in Germany speaks English. If they do, they are not going to admit it! If you stay only in five star hotels and stick to tourist venues, then yes, you will probably find English speakers. Venture out anywhere else, and you can just forget about it. My theory of this is that you were probably more likely to find English speakers back in the 1970's than you will today. This is because after the 1989 re-unification, the western side of Germany became full of young "refugees" from the former East Germany, who wound up with all the menial jobs, and who had only learned Russian as a second language in school. The other issue, and I hate to say it, and maybe it was just my experience, is that some Germans over about 60 seem to feel that the United States is single-handedly responsible for every problem suffered by postwar Germany, which we probably are, and that you as an American should be made to pay for this situation. This includes refusing to speak English to you. Another issue is that Germany is filling with Muslim immigrants, as is the rest of the continent and Britain. These immigrants arrive from assorted Arab nations, primarily Turkey, speak only limited German, and are usually found in menial jobs such as hotel maids, bathroom attendants and bellboys. In my experience, virtually none speak English.
Extracurricular Activities: There are other things to do in Friedrichshafen besides Ham Radio. One of them is viewing the Zeppelin factory. Pay no attention to advertising which acts like the factory is on the Messe Friedrichshafen grounds, it isn't. Yes, you can get a ride in a Zeppelin but the price is also breathtaking. Friedrichshafen, being on the lake, is a short ferry ride to Switzerland and that's another possible day trip. You will have to determine the arrangements on your own as I have not looked into that.
Eating Out: Restaurants are generally unremarkable and feature heavy-on-the-fat red meat, poultry and potato entrees. There are ethnic restaurants such as Chinese and Japanese and the food there is about the same as what you would find at the same sort of restaurant in the USA. Menus may or may not have English subtitles. The staple drink is beer, and it's cheaper than water. If you don't want or drink beer, you have a problem. Substitutes could be Coca Cola or 7-Up, but they will cost twice as much as the beer and be delivered in a tiny little bottle never seen outside of Europe. Water is unknown other than as bottled water, typically drastically overpriced San Pellegrino water available in bubbly or "still" modes. "Still" meaning non-sparkling, or, just flat. Tips are not used, which may account for the rather slothful performance of wait staff in virtually every restaurant I visited. Once the food is delivered to your table, you are unlikely to ever see your waiter again the rest of the evening, short of being forced to rudely yell for him, which is apparently expected in most of Germany (but definitely not France.) This isn't so much that they are ignoring you, as unlike in the USA, the table is yours for the entire evening should you wish. Once you are ready to leave, it will be necessary to corral said waiter and demand "die Rechnung" as otherwise the bill will simply never be presented to you. It is suggested that restaurants be paid in cash rather than credit cards where possible. There are quite a few decent restaurants in Friedrichshafen proper. Unlike such areas of the world as Shanghai, it isn't necessary to be careful about the restaurant you pick. Of course, there's always McDonald's!
Grocery shopping: The carts at grocery stores are all chained together with a strange lock system which requires that you put a coin into a slot to unlock your cart. When you return the cart, you can pull your coin back out. I saw slugs made of plastic which can be used in lieu of coins. If you don't bring your own grocery bag, they will provide you with a regular plastic one (but charge you a nominal fee for it.) If you buy fresh vegetables in the produce section, you may have to bag and weigh them on a machine at that area which prints the bar code tag telling the checker at the door what to charge. Make sure you don't bring them up front without the tag or you'll get a dirty look. Some stores are this way and others aren't. The tag machine is only in German and the names of certain vegetables are, well, a bit inscrutable if you didn't learn them in high school. Make sure to find a "real" grocery store. There are many "fake" grocery stores which are really Muslim markets and seem to contain only bottled water and bags of strange looking seed things. Don't ask how I know this.
Bugs: The weather in June in Friedrichshafen might be warm and pleasant, but bugs think so too. Many restaurants will try to seat you outside, but this just means you share your space with mosquitoes and assorted flying insects which thrive in lake areas at dusk. The closer your hotel is to the lake, the more this is an issue.
Smoking: Cigarette smoking in Germany, and Europe as a whole, is far more prevalent than it is in the western United States although the EU claims to be curtailing smoking to a great extent these days. You will usually find someone lighting up in your immediate vicinity during a meal, which for a Californian, is reminiscent of bygone days (smoking in restaurants in California has been illegal for many years.) I was also surprised to see cigarette vending machines on suburban street corners, accessible by anyone including children. As mentioned above, if you can't survive a few restaurant meals in a cloud of cigarette smoke, you might consider fast food or grocery store take-out. In the toy sections of department stores, I saw packages called "Junior's First Cigarettes" with toy fags inside. Making sure to get everyone started early.
Driving in Germany
Particularly if you are an American, you will be used to driving everywhere you need to go. This is also certainly a huge advantage in most of Europe except the big cities. In order to drive in Germany, you should obtain an International Driver's License, available at your local AAA office, for a small fee. You will need to carry your passport, American driver's license, and the International Driver's License with you at all times when operating a motor vehicle in Germany. Insurance should be already provided by the rental car agency.
The roads in Friedrichshafen are similar to what you would find in any American medium-sized city. One annoyance is that traffic lights are sub-standard compared to what exist in the USA (in terms of number and location) and at smaller intersections, can be located so poorly that they are impossible to see unless you stop well short of where the limit-line would be for an American intersection. Most rural main-road intersections near the Messe Friedrichshafen are traffic circles. Traffic flows to the right at all times, one-way, and the car in the circle has the right-of-way. Well out of town, some roads will deteriorate and "peter out" into little more than dirt cow trails before eventually widening again to a normal road (such as the road out of Ettenkirch to the freeway to Munich.) On the major freeways, the general idea is to stay out of the # 1 lane (the farthest left) unless passing. In many areas there is no speed limit and traffic in the # 1 can come up behind you at very high speed. Watch for flashing headlamps coming up behind you. In general, traffic seems better behaved than in the USA and drivers seem better skilled, although freeway collisions, when they occur, are invariably spectacular and generally fatal, more resembling aircraft crash sites than auto accidents.
Be careful to not pass freeway traffic on the right, which seems to be a violation under the German vehicle code. In other words, on a three lane freeway, if there is a slower vehicle in the middle lane, pass them using the far left lane, never the far right lane, unless of course you are exiting at the same time.
Heavy trucks do not use the roads on Sundays, so you may get a false sense of tranquility. The following Monday, on the busier freeways, there will be a line of trucks as far as the eye can see. I was warned by the Germans to watch out for cars with a "yellow number plate" because they are Dutch and "don't know how to drive." This did not seem to be the case and I guess there's some sort of rivalry there which I will gladly leave to them.
Watch out for a street sign named "Einbahnstraße." This means "One Way Street," not the name of the avenue, despite the opinion of Japanese tourists to the contrary. Get maps and study them before taking to the road, and learn what the international road sign symbols mean (hint - - most of the ones found in Germany will not be shown in your travel guide!)
Speed traps: The German police make frequent use of camera speed traps. This consists of several officers standing at a tripod by the side of the road, on the tripod is a radar gun and a 35 mm camera which takes a photo of you as you go by along with that of your license plate. The ticket which arrives in the mail contains a surprisingly good view of the driver's face along with the front license plate (in black & white.) I don't know how they would enforce that against a tourist, since you would be long gone by the time the ticket arrived in the mail at the rental company. There are also roving drunk-driving checkpoints in suburban areas which pull all cars in, and administer breathalyzer tests to every driver. As I recall, the blood alcohol maximum level in Germany is less than the typical USA 0.08, so it is best to not drink at all for some time before driving. Be aware that in the eastern European countries adjoining Germany, and in Russia itself, the police can and do open fire on vehicles which do not respond to being pulled over.
Vehicle types: Most rental vehicles are Volkswagen, Opel and similar economy models. Don't get the cheapest, smallest models as they are, well, really small if not downright dangerous and the cheapest rentals seem to have the clutches in questionable order. By small, I mean something similar to a "Smart Car." Nearly all rental vehicles are manual transmission types, and automatics are much more expensive and rare. I think all male Americans should know how to drive a manual transmission vehicle anyway, right? I rented a VW Golf station wagon which was ideal for flea marketing. There is a pull-back black plastic cover in the rear which hides your possessions from view. Gasoline is very expensive compared to the USA, but the cars get much better mileage. Gas stations are typically self-serve and work just like the ones here, except that you will have to go inside to pay, rather than paying at the pump by credit card. Gasoline fueled rental cars will take "Bleifrei" which means literally lead-free or "unleaded." Avoid the diesel pump and the leaded or "super" pumps. The gas stations are about the only place to buy basic groceries in Germany on Sundays, because grocery stores are closed on Sundays.
Weird signs: There are some weird street signs which you may run across. A typical one in the Ruhr Valley area says, in German "This traffic light takes a long time to turn green, so it is suggested that you shut off your motor to save fuel and pollution." As soon as you do this, the light will turn green and your battery will be dead.
Gas station bathrooms: Most of the freeways have gas stations with "modern" self cleaning pay toilets which resemble something from Star Wars and do all sorts of automated cleaning tasks when you vacate them. You will need some coins at all times. I understand you can get the coins refunded using the receipt the pay toilet prints out, back in the office, but I am not sure how that all works. Imagine that - - a toilet which prints a receipt. The bathrooms in shopping malls and the like generally have an attendant sitting at a table with a bowl awaiting the deposit of a coin. Apparently this is a popular job for Muslims in Germany, mainly women, who can be found hanging out in the men's rooms. Anyway, bring coins...
CONCLUDING REMARKS
The most important thing to remember is to plan what you can in advance, and allow plenty of time between scheduled items to avoid stress and to deal with unexpected problems. Figure out how you would bring certain items home in your luggage, and have a good time!
UPDATE: Check out photos (better than mine above!) and story of the 2009 Friedrichshafen event here:
http://www.eham.net/articles/21904
Ver. 08/15/2011