UNUSUAL
POLICE, FIRE AND HIGHWAY PATROL SPECIAL PRODUCTION 2-WAY RADIOS
PAGE TWO
---
MOTOROLA MICOR
Orange County, Calif. Sheriff UHF Micor, Dual Control for extra receiver. Used through 1989.
Photo courtesy Ray Grimes, Orange County Sheriff's Department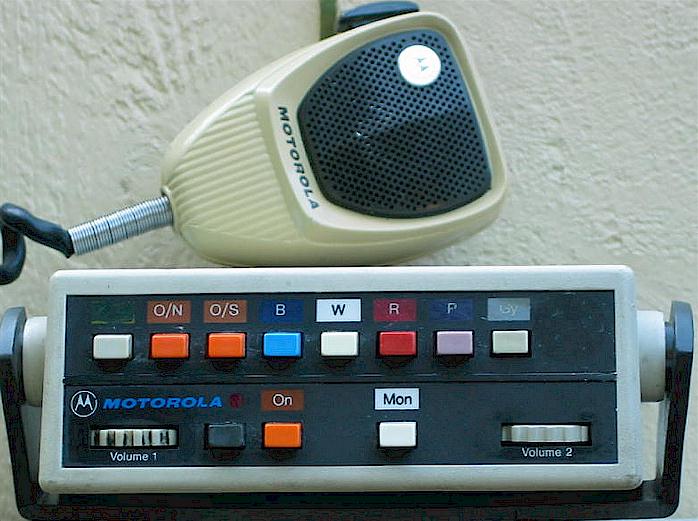 ---
MISCELLANEOUS MAKERS
DENELCOR, INC. COLORADO STATE PATROL CONTROL HEAD, 1968
Denelcor briefly manufactured custom integrated control assemblies for mobile radios in the late 1960's. The siren amplifier and lighting control was built into the control head. It is unknown whether any agency other than CSP purchased these. These control heads were ahead of their time, in that it would be almost another twenty years before Motorola or GE would offer integrated siren and lighting control in a radio control head, and those brands used separate siren/PA amplifiers.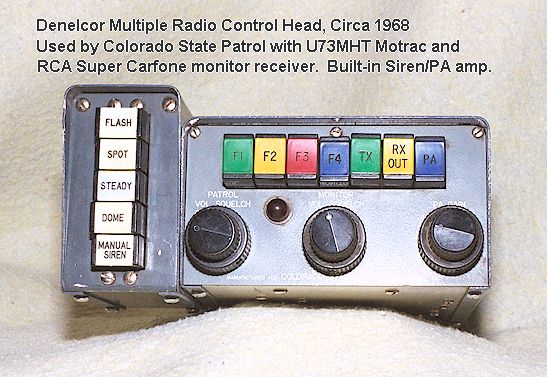 Denelcor later manufactured a completely different-looking head for the Cleveland, Ohio Police Department, which used a pair of rotary knobs for functions and controlled a 12 channel Motran or Mocom 70 style Motorola radio drawer, as shown below. In this model the siren amplifier was a separate unit and not built inside the head as the model shown above.
Thanks to Greg Savernik of the Cleveland Police Historical Society and Museum for this photo: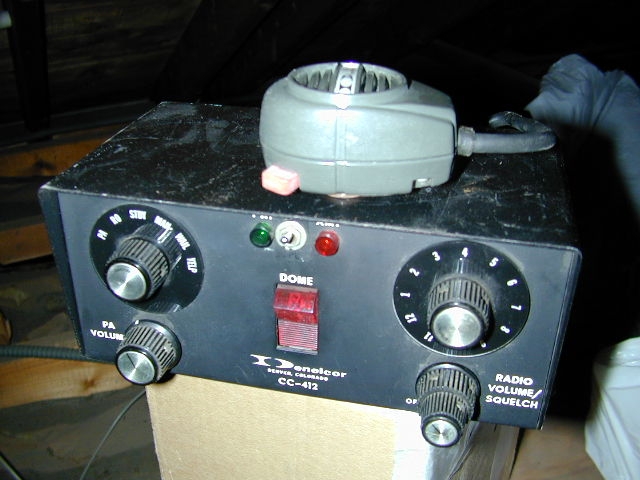 ---
AEROTRON NORTH CAROLINA STATE HIGHWAY PATROL, 42 MHz Synthesized Mega
Aerotron, now defunct, was a long-established North Carolina manufacturer so it appears natural that the state's highway patrol would use some of their equipment. Several other state departments used the equipment as well. The Mega is a synthesized radio using bank of socketed jumper strips which program the channel information by a selection of which pin on the jumper strip is inserted into the socket. The later Mega "E" used a uv-erasible EPROM to do the same thing. It is unknown if NCHP used any of the "E" models. The "E" is black in color, the previous models are a pebbly brown color as shown below. The Megas replaced Aerotron M-PAC radios and apparently were themselves replaced by Motorola Syntor X9000's. In highway patrol service, the Megas were often used with handsets rather than microphones.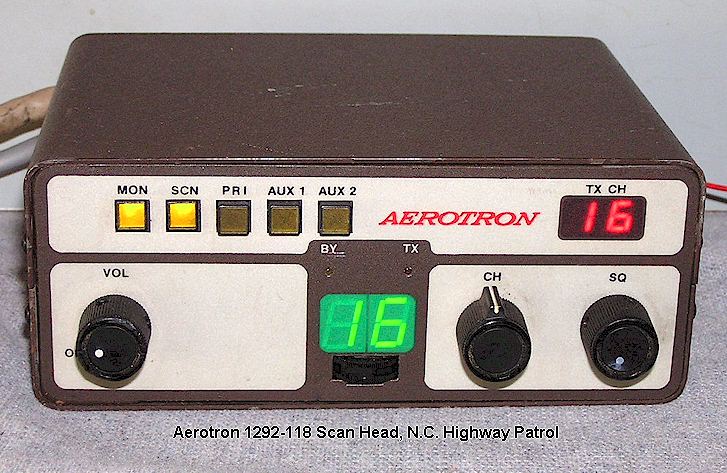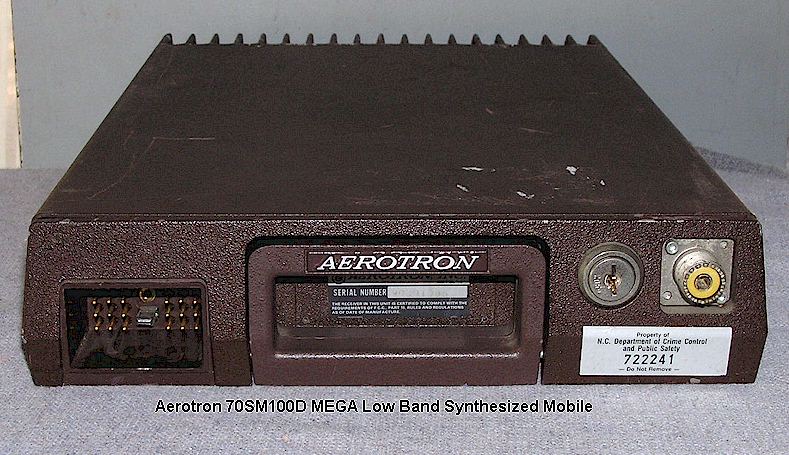 ---
FOREIGN EQUIPMENT
BOSCH German Railroad Police Radio
This Bosch radiotelephone head was used with a Telefunken Teledux 1970's 160 MHz solid state radio package by the Deutsche Bahn German railroad authority. Interestingly, it fits neatly into a 1-DIN car radio slot as used in most newer cars. The head contains tone decoding and signaling equipment. There was also a separate handset and cradle. The D-B on the head is the logo of Deutsche Bahn. I have no idea what most of the pushbuttons do. The display is a small red scrolling LED arrangement. The Teledux transmitter-receiver is about the same size as a Motorola Motrac and is built to an incredibly rugged standard. Amazingly, these radios were left in the vehicles when they were sold as surplus by Deutsche Bahn. The numbered plug shown in the lower left quadrant is a coded key to identify the unit to a control station. The "Q" button means "Quittung," or end. The "W" button appears to mean "Wagen zu Wagen," or "car to car."
The Teledux mobile drawer covers a band of channels with 160 Mhz receive and 171 MHz transmit, as well as a rather extensive list of audio tone frequencies (apparently a tone decoder is built-in.) The RF output is on the rear of the housing via a Type "N" female connector. The gray male connector on the front of the Teledux drawer is probably the high current 12 Volt DC input. The matching connector appears similar to those used on automotive relays. It is believed that the transmitter runs about 10-15 Watts output power. It is fully solid state. The Teledux radio packages themselves were also used in the German "B Netz" mobile telephone systems, so this setup may be merely a slight modification of a B-Netz telephone.
There is some kind of interface box in the cable immediately before connection to the Teledux drawer itself. The box contains a circuit board screened with the Deutsche Bahn logo so it is apparently proprietary to them, and that board contains a relay, two 2732 EPROM chips and a Xicor EEPROM chip. This box possibly contains the firmware for operating the system. The specific unit number decoding seems to be controlled by the removable code plug shown inserted into the control head.
Does anyone have any documentation on either this Telefunken radio package or the Bosch control group? It's impossible to find anything on it in the USA!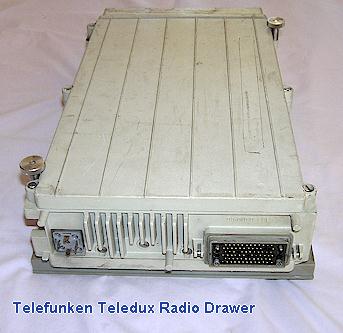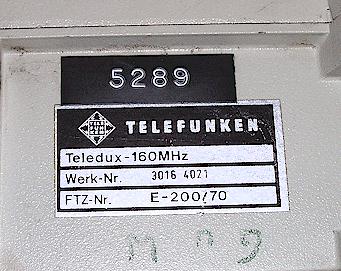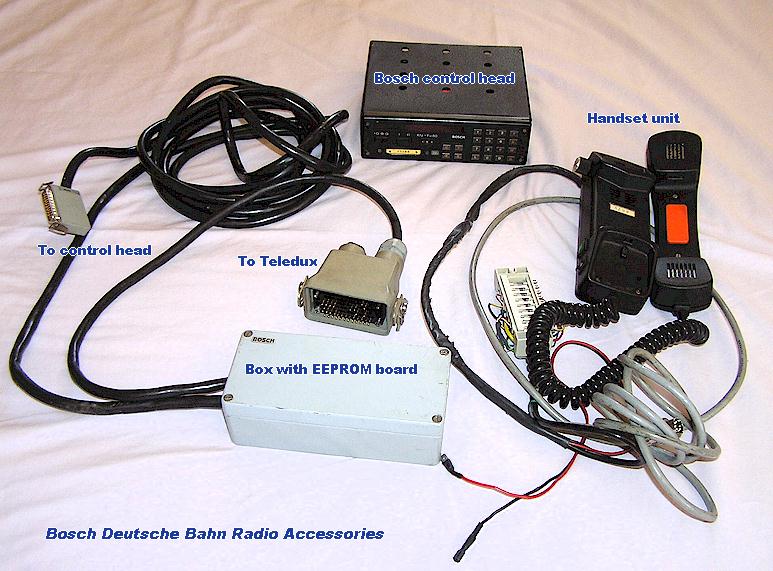 BOSCH German Police Motorcycle Radio, from BMW R80RT
This is a German VHF FM police radio of the late 1970's or early 1980's, removed from a BMW R80RT police motorcycle when it was sold surplus in Germany. It was then imported to the USA by an American enthusiast. The radio package itself is missing. 5-26-2010: Thanks to Chris Horswell in Austria, I now know that the original radio was a Bosch public safety radio type FuG 8 or FuG 9, one of the series FuG 8a, FuG 8b, FuG 8b-1, FuG 9b or FuG 9c. The radio is about the same size as a Motorola MCX-100 motorcycle radio and operated on the 4 Meter band (80 MHz range approx.) An interesting design where there is a control head on top of and almost flush with the fuel tank, and a headset-microphone for the rider in addition to the handset shown here, stowed inside the small door. The antenna is a standard Kathrein Mfg. type which resembles a regular auto radio antenna.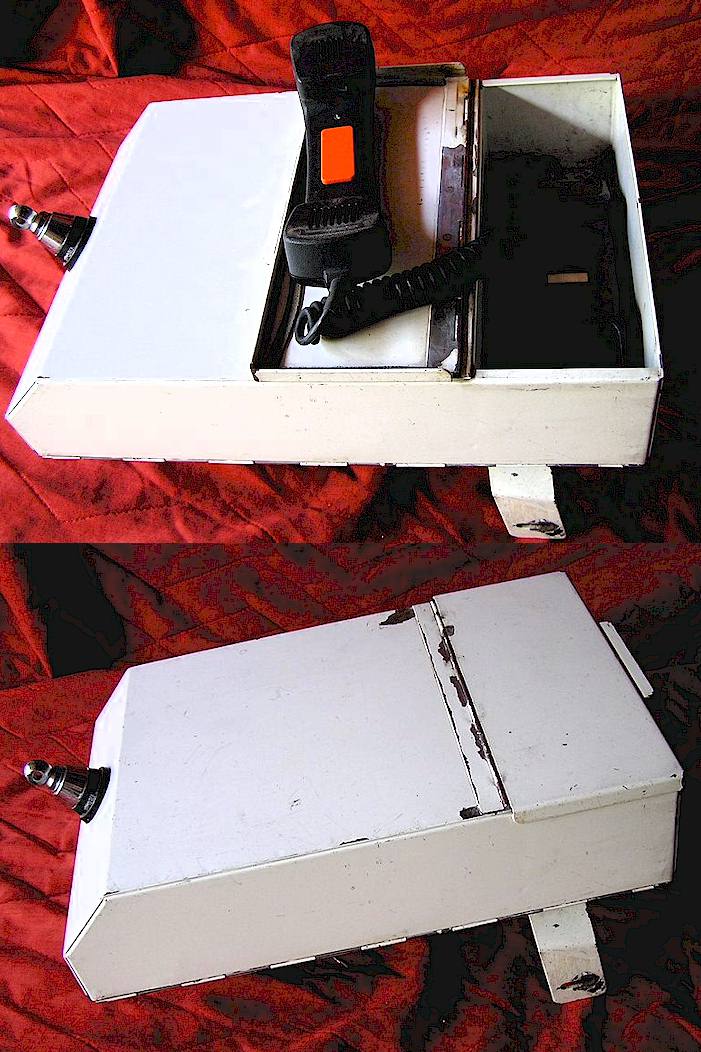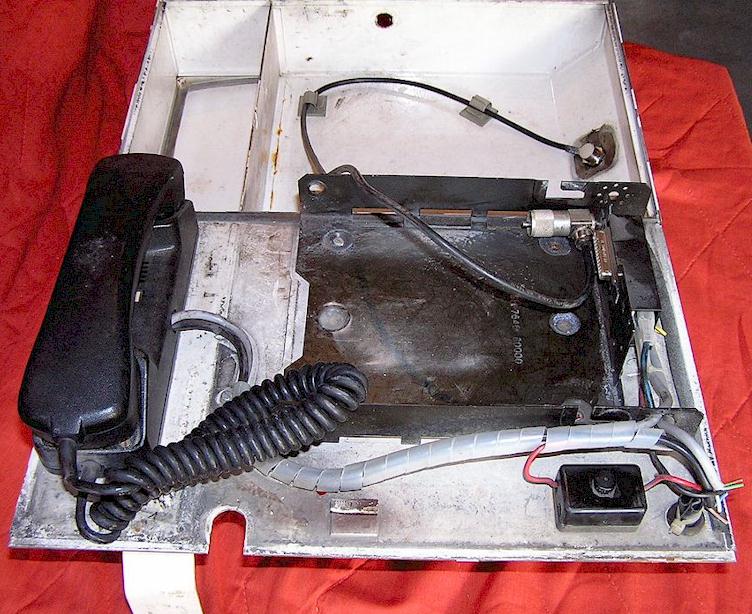 The German Oppermann Telekom website has a photo of the radio installed on a motorcycle as well as some other photos of the Bosch FuG 8 series:
http://www.oppermann-telekom.de/bosch-fug8a.html
---
TELETEC Two-Way Police Radio Equipment
Teletec was a firm for which I have little information but which manufactured interesting custom made equipment which was mainly unusual in that it used a fiber optic communication system between control head and radio drawer.
According to the current company website, Teletec was founded in 1983 and made the first "software operated" mobile radio with a fiber optic cable between radio drawer and control head, "ten years earlier than the competition," the IQ-1000. Based on the year of manufacture, this does not mean software defined radio, but rather software programmable, which in fact used uv-erasible eprom chips. As far as I know, this was the only mobile radio to ever use fiber optic control lines.
The original Teletec was based in Raleigh, North Carolina and I am told employed former Motorola engineers and the sales manager from Aerotron. I do not know if Teletec designed and manufactured their own radio drawer or simply modified one from Motorola or Aerotron. Anecdotal evidence suggests the control heads and equipment were very unreliable and prone to overheating. Reports from those having this equipment is that it consisted of a cross-band radio with a VHF and a UHF drawer, each about the size of a Motorola Spectra mobile, with fiber optic interfaces on the front of each. It is unknown whether this is the only control head ever made or if there were others, perhaps with a vacuum fluorescent display (as in Motorola's Syntor X9000 or Spectra.) Teletec has changed hands at least once and their current website suggests they no longer manufacture such equipment, although it indicates that the states of Iowa, North Carolina, Virginia, Wisconsin (DNR) and the Raleigh, NC Police Department used it. Based on the photos below, it appears that this head also controlled some sort of mobile repeater.
If you have any of this equipment or documentation on it I would like to hear from you. There are a few people out there who have been trying to get examples of it running for years!
Below the photos below is the text of a July, 1989 ad Teletec ran in Mobile Radio Technology Magazine.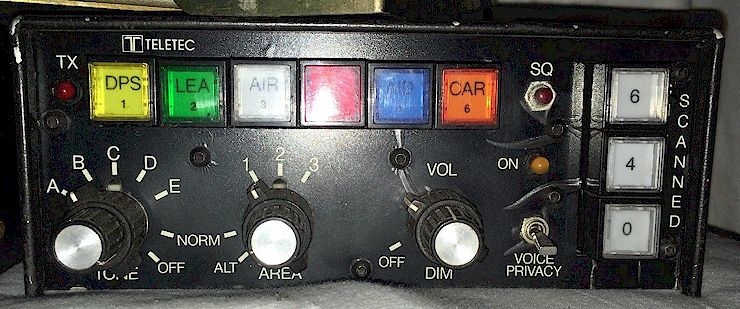 ------------------------------------------------------------------------------------------------------------------------------------------------

The Gift

It starts when you open your mind to the possibilities of the most magnificent systems radios ever designed. The Omni IQ 1000 and !Q 2000. They're out-of-the-box compatible with any VHF or UHF system in the world. With imagination, they can be used to enhance any system. By using the gift, they can be used to create a system of radio communications beyond any other.

The gift is interoperability.

Now you can design a communications system in which the operative word is power, the power to communicate through the remarkable versatility provided by software driven radios so advanced that they will accommodate virtually any option to enhance any system. For instance, the Omni IQ 2000 can operate crossbanded between UHF and VHF simultaneously across the entirety of each complete bandwidth, including during the scanning sequence.

The gift is in the attributes.

Every conceivable feature can be built-in to the products, making them compatible with every system's requirements. In fact, the Omni IQ 1000 and IQ 2000 can be used to completely redefine what system performance should be.

The gift is in the company.

Teletec embarked on the most advanced RF and software systems project in the history of two-way radio four years ago. In that time, we have produced a product that has captured the attention of some of the most sophisticated systems customers on Earth, At the same time, we've developed a product support group that understands your expectations ...and can fulfill them.

The gift is in your mind.

If you've ever asked yourself. "What if...?" or "How could I...?" in regard to a radio system, the answer is here - within the awesome power of the IQ 1000 and IQ 2000 from Teletec.

Please call us with your ideas.

Well show you how the gift can be the talk of your future.

TELETEC

The Ta!k of the Future

10101 U.S. One North, Raleigh , NC 27604

1-919-556-7800

FAX: 919-556-6180

TELEX: International 3772227 TELETEC

Domestic 713772227

© Copyright 1989, Teletec Corporation

Patents and Copyrights pending, Specification/Features subject to change without notice.

Circle (45) On Fast Fact Card
---
---
Ver. 6/30/2018 © 2007 All rights reserved