Bell System
Mobile Telephone Antennas
The Bell System used a variety of mobile antennas throughout the 1947-1995 period. Initially, two of the most popular antennas for "urban" mobile telephones were those shown below.
Burndy "Bell System" Antenna (VHF High Band)
The Burndy antenna is an interesting design which has a set of coarse threads on the bottom which require a single hole to be drilled into the vehicle roof or trunk lid and the base assembly threaded in, cutting its own threads. It apparently was used beginning in approximately 1952 and was essentially unique to Bell System installations. The housing appears to be all stainless steel, and the rather odd trumpet shape gives it a distinctive appearance. The Burndy antenna appears to have disappeared from use by the mid-1960's. The Bell System part number is KS-15510 List 1. The coaxial cable supplied with the unused one I have, is 12 feet.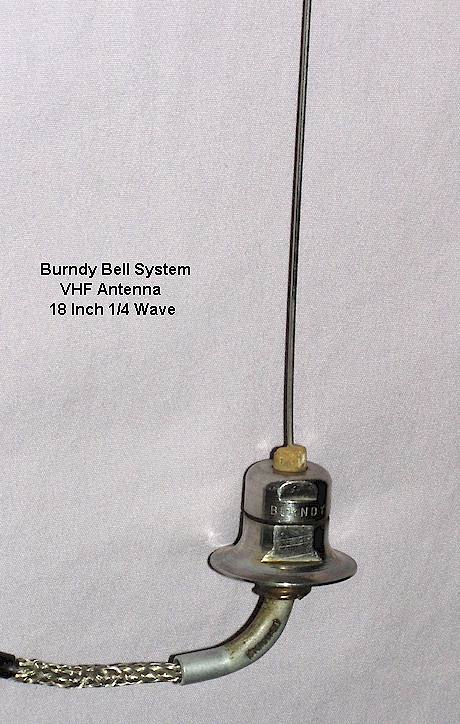 GE VHF High Band Antenna
The GE antenna shown required a rather extreme set of holes to be drilled in the vehicle roof. Possibly as a result of that, this antenna faded from use by the early 1950's. It was originally used with GE's regular VHF mobile equipment of 1946. The rod is chrome plated steel and rather rigid. Note that the square aluminum plate is not part of the antenna but is merely some fabricated item found with it and left attached. These would have ceased being sold by about 1956, when the "eight ball" antenna shown below came into widespread use.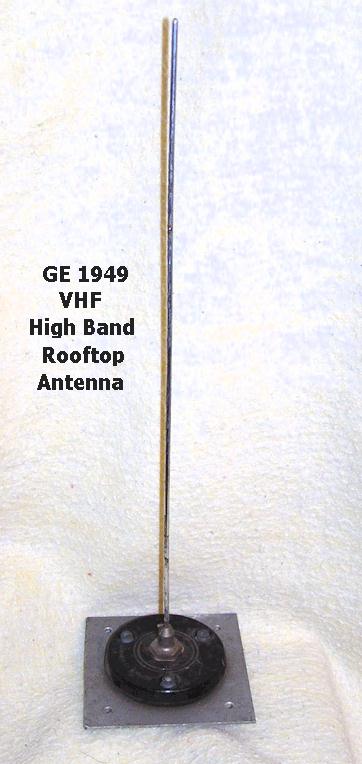 MOTOROLA P-8553 VHF High Band Antenna
Manufactured from approximately 1947-1955, the P8553 went through a variety of design changes and part numbers until ultimately being replaced by the simpler "NMO" style antenna of 1968. These first-generation antennas were somewhat prone to water leaks and were rather complicated to install. Later variations had a "trumpet" shaped coaxial cable exit straight out the base rather than the right angle of this mount. This was the standard antenna supplied with all Motorola high band two way equipment from approximately 1946-1955, and in a slightly different internal configuration until 1968. Unlike some antennas which were simply OEM'd for a radio manufacturer by an antenna company, this antenna was a Motorola design and excusive to them (although the components of it were outsourced.) The same antenna with the rod cut to 6 inches could be used as a UHF version.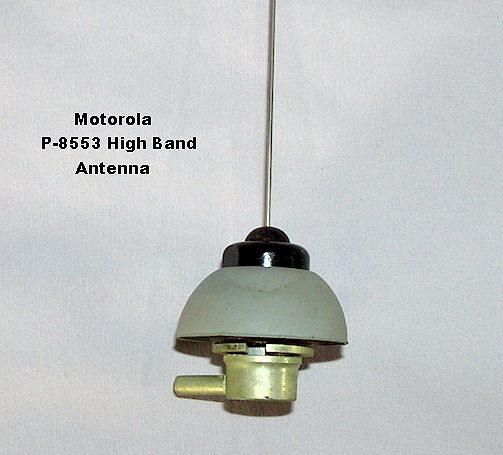 By 1968, Motorola and GE were supplying their own antennas with mobile telephone equipment. Motorola's was their proprietary "NMO" high band quarter-wave antenna, while GE's was the black "eight ball" antenna supplied by Antenna Specialists.
Motorola NMO Mount VHF (and UHF) Antenna:
The NMO series antenna began to be shipped by Motorola in late 1968. It is designed to mount in a 3/4" hole and theoretically does not require removal of the auto headliner during installation. It is still the current VHF high band antenna supplied with Motorola radio equipment. UHF versions use a 6 inch whip but are otherwise identical.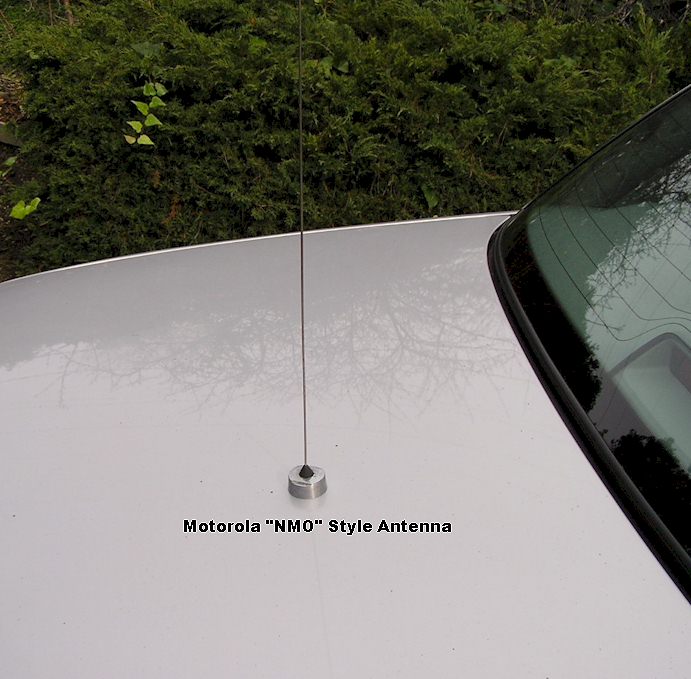 ANTENNA SPECIALISTS "Eight-Ball" Mount (as used by GE and others)
This antenna mounts in a 3/8" hole from the outside and is intended to "snap-in" without requiring removal of the car's interior headliner. The black housing is high impact plastic, and there is usually a rubber washer supplied to go between it and the vehicle body. There have been slight variations of this design over the years and manufacturers other than Antenna Specialists have produced their own versions. This was the standard antenna supplied with GE and RCA VHF high band radios in the late 1950's through the 1960's.
The antenna base insulators with eight flats around the perimeter were manufactured by Danbury-Knudsen Corporation, and supplied directly to GE and others. The base insulators with six flats were manufactured by the Antenna Specialists Corporation of Cleveland, Ohio. Amphenol purchased Danbury Knudsen in winter, 1957, after which the Danbury-Knudsen products began to be re-labeled Amphenol and Amphenol-Canada and supplied as OEM items to GE and others.

Close-up of base: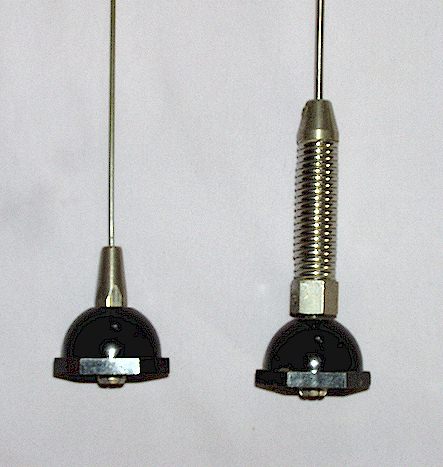 In the mid-1970's, GE began to supply at least two different antennas with new equipment, replacing the Antenna Specialists plastic mounts shown above with chrome plated styles similar to the NMO Motorola mounts, but made by DB Products Corporation.
---
RETURN TO BELL SYSTEM MOBILE TELEPHONE HISTORY PAGE
Ver, 1/29/2011